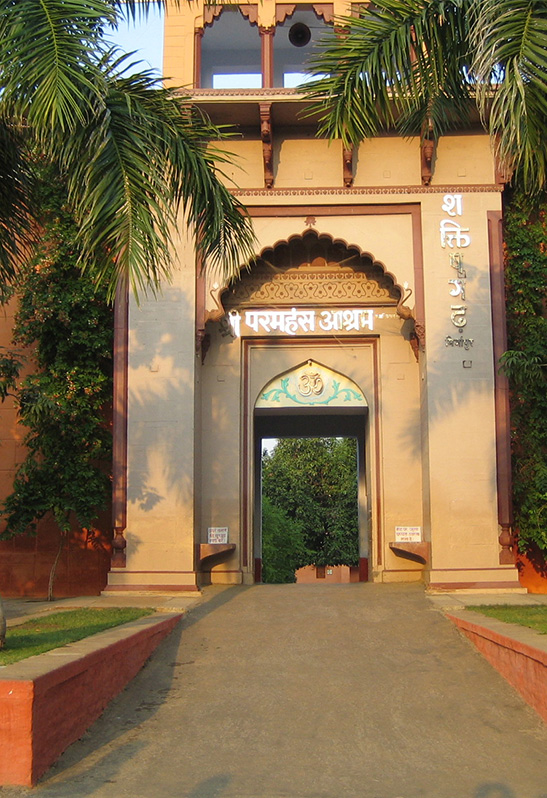 Whenever virtuous tendencies have been eliminated in the world, and nefarious tendencies have augmented within the minds of humanity, great divine prophets have been incarnated in the world. Such great sages have alleviated human beings from satanic tendencies and brought them on the path to the attainment of salvation. These great sages are incarnated as Ram, Krishn, Buddha, Mahavir, Eknath, Kabir etc. They commended the path of attainment of freedom for all human beings. In the present times, reverend Swami Shri Paramhans Adgadanand Ji is one of such enlightened saints of this calibre.
Shri Paramhans Adgadanand Ji is the pupil of Yogiraj Yug Pitamah Reverend Swami Shri Paramanand Paramhans Ji. Swami Shri Adgadanand Ji is above all the bindings of caste or faith, space and time; and has conquered over worldly desires, anger, greed and illusion. Free from social or traditional pretence, he is an enlightened sage who is enlightened enough to perceive beyond the boundaries of time-scale and is a divinity personified.
The spiritual life of the Swamiji began at Anusuiya Ashram under the guidance of Swami Shri Paramhans Paramanand Ji. Having attained divine knowledge, in accordance with the Divine dictates he began explaining the process of attainment of salvation to the people.
There are many ashrams at the service of reverend Guru Swami Adgadanand Ji. These ashrams were established at a time when people used to think twice or thrice before attempting to go here and then, too, used to go there in groups of four or five. For example, Barachar Ashram, which is located in a dense forest. It is said that thousands of years back, the great sage Shringi inhabited a cave at this place for meditation. Thousands of years back, the locations of the present day ashrams had been coveted places for meditation by the early saints. If you look at the construction of these ashrams, you will realise that, where the people dared not venture, establishment of such large ashrams is in itself a mystical and arduous task, a unique event. Out of these ashrams, some have been established at Chalisgaon in Maharashtra, Vijaypur in Mirzapur, on the banks of Jamuna in Kanpur, which is a place of refuge for bandits. Several hermits perform meditation and pursue their quest for the truth through these ashrams under the guidance and benevolence of Guru Ji Maharaj. Many of these hermits have renounced their homes and even forsaken love for their own life and devoted to penance. People of all age groups are included among them. Some of them took to penance in their teens while some of them took to meditation in middle age; whenever anyone had a glimpse of this path to know the Truth, he took refuge in Maharaj Ji in his quest for Truth. All their needs are taken care of for life by the ashram at no cost to them. Around one and half to two lakh devotees came to have a glimpse (Darshan) of Maharaj Ji on the day of Guru Purnima on 30th July 1999 amidst heavy rains, which amply speaks for the reverence people have for him.
Shri Paramhans Ashram, has organized the publication of the books of Swami Ji, in Indian as well as certain foreign languages. Audio cassettes have also been prepared based on the 'Yatharth Geeta' and distributed in many languages. Audio cassette of the discourses in the divine speech of Swami Ji has also been produced. The Ashram has undertaken all this work with the intention of spreading the words of Swami Ji in every home, so that the salvation of all the living beings of this universe can be attained.